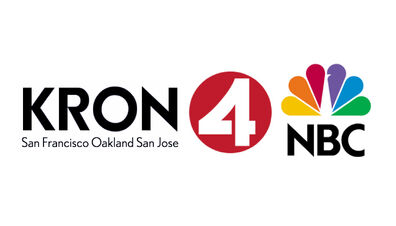 KRON-TV, virtual channel 4 (UHF digital channel 33), branded "NBC Bay Area," is an NBC owned-and-operated (O&O) television station licensed to San Francisco, California, United States, serving the San Francisco Bay Area. The station is owned by the NBC Owned Television Stations subsidiary of NBCUniversal (itself a subsidiary of Comcast), as part of a duopoly with Telemundo O&O station KSTS (channel 48), licensed to San Jose; it is also sister to regional sports networks NBC Sports Bay Area and NBC Sports California. KRON and KSTS share studios at the NBC Broadcast Center, located at 1001 Van Ness Avenue in the Western Addition neighborhood; KRON's transmitter, shared with Fox O&O KTVU (channel 2), CBS O&O KPIX-TV (channel 5) and ABC O&O KGO-TV (channel 7), is located atop the Sutro Tower near San Francisco's Twin Peaks.
KRON is available on Comcast Xfinity cable systems in the Bay Area on channel 4 (704 in HD).
(The following is a retelling of actual events as found on the KRON Wikipedia article)
History
In the 1940s, when the channel 4 allocation in the Bay Area came open for bidding, it soon became clear that the license would go to either NBC or the deYoung family, publishers of the San Francisco Chronicle daily newspaper. NBC wanted an owned-and-operated station (O&O) in the Bay Area alongside its West Coast flagship radio station, KNBC (680 AM, now KNBR). However, in an upset, the deYoungs won the license. KRON-TV signed on the air on November 15, 1949, as a full-time NBC affiliate, operated alongside co-owned radio station KRON-FM (96.5, now KOIT-FM). The station's call letters come from a modification of the Chronicle's nickname, "The Chron". KRON-TV was the third television outlet in the Bay Area behind KGO-TV (channel 7) and KPIX-TV (channel 5), all going on the air within a year, and the last license before the Federal Communications Commission (FCC) placed a moratorium on new television station licenses that would last the next four years.
KRON-TV originally broadcast from studios located in the basement of the Chronicle Building at Fifth and Mission Streets. Newscasts benefited from the resources of the Chronicle and there was cooperation between KRON-TV and the newspaper. It originally maintained transmitter facilities, master control and a small insert studio on San Bruno Mountain. "NBC" lettering was placed near the summit of Radio Peak in huge white letters. In August 1959, the Chronicle reported that the tower was severely damaged by an unusually strong thunderstorm, requiring major repairs before KRON-TV could return to the air. In 1961, NBC attempted to purchase its own station in the Bay Area, when they attempted to buy KTVU. The sale was cancelled that October due to pre-existing concerns over the sale cited by the Federal Communications Commission (FCC) that were related to NBC's ownership of radio and television stations in Philadelphia; as a result, NBC stayed with KRON-TV.
In 1967, KRON-FM-TV moved to a new studio at 1001 Van Ness Avenue in the Western Addition neighborhood (a location that formerly served as the site of the Roman Catholic cathedral of San Francisco). The television transmitter was moved to Sutro Tower on July 4, 1973, while the FM transmitter remained on San Bruno Mountain.
Since the 1970s, KRON's logo has incorporated a stylized number "4" design that is based on the Golden Gate Bridge. The vertical component is a bridge tower, the horizontal component is a portion of the bridge deck, and the curve is a portion of a suspension cable. This logo was used as early as April 1974, during coverage of a Symbionese Liberation Army bank robbery. By about 1991, this evolved into the "circle 4" logo in use to this day, with the "4" keeping the bridge design.
In 1982, the deYoung family's Chronicle Publishing Company unit discussed a possible trade of KRON-TV to the Gannett Company (whose broadcasting division is now part of Tegna) in exchange for acquiring Gannett's Oklahoma City station KOCO-TV, plus an additional $100 million. The proposal ultimately fell apart by September 1983.
(All information past this point is hypothetical and based somewhat on actual events)
NBC made many offers for channel 4 over the years, but the deYoung family turned them down each time. However, in a move which shocked the broadcast industry for the speed in which it happened, in February 1986, NBC president and chief executive officer Bob Wright and the deYoung family finally agreed to terms of a sale, in which NBC would acquire KRON-TV and its Van Ness Avenue studio complex for $180 million. All current station jobs, and contracts for all on-air personalities, would be acquired by NBC, making all KRON staff NBC employees. The deal closed that September. This made KRON the second major station in the San Francisco market to be an O&O (KGO was launched by ABC from the very beginning as an O&O; Westinghouse, the owner of KPIX, would acquire its affiliated network, CBS, in 1994, and Fox would acquire KTVU in 2012).
This would turn out to be the first of the deYoung family media holdings to be slowly divested over the next fifteen years, culminating with the sale of the crown jewel of the family, the Chronicle newspaper, to arch-rival Hearst by 2001.
On-air copyright bylines changed from "Chronicle Broadcasting Company" to "National Broadcasting Company" beginning with the September 1, 1986 launch of Daybreak (which ran from 6:30 to 7 a.m., leading into the Today show). The first anchors were Lloyd Patterson and Lila Petersen, who announced the finalizing of the NBC deal as their second story, saying that as of the 4 a.m. sign-on that morning, KRON was now officially an NBC owned-and-operated station. Patterson introduced a videotaped statement from Bob Wright, and another one from Tonight Show host Johnny Carson welcoming KRON as an official O&O ("they were doing such a great job up there we bought the place," Carson quipped to Ed McMahon). At the time, Daybreak was the only local early morning newscast in the San Francisco television market.
NBC, highly satisfied with the performance of one of its largest and highest-rated affiliates (especially its news department, winner of two DuPont Columbia awards, a Peabody and more than 100 local Emmys), made very few changes to station operations, or to on-air branding (except to, as quickly as possible, add the NBC peacock logo and legendary NBC chimes to existing promos and station IDs). NBC retained the stylized "4" "bridge" logo, and began inserting the NBC peacock logo more prominently next to it, where possible, in on-air branding. Some on-air branding elements, such as the fonts used for Chyron graphics, were tweaked to copy those in use by other NBC O&Os, most notably WNBC and WMAQ, and the NBC chimes (or similar three-note motifs) were added to the existing news theme music. KRON's opening news graphics intro was slightly retooled to feature the various names of the cities, suburbs and towns in the Bay Area viewing market, bursting out of the "4" as it spun across the screen; this was a direct emulation of similar practices at WNBC and the other NBC O&Os. (In September 1988, KRON implemented a modified version of the news graphics and intros from WNBC, and to this day uses the standardized news graphics implemented at all NBC O&Os (which several smaller-market affiliates also use).) The 1001 Van Ness complex began to be referred to on-air as the "NBC Broadcast Center in San Francisco." NBC also began sending its other local station news directors to KRON to observe its local news operations, with an eye towards giving their newscasts the same level of excellence KRON exemplified.
KRON began airing the entire NBC schedule without preemptions except for local news and weather-related emergencies (NBC did allow occasional preemptions of low-rated summer sitcom reruns for locally-produced documentaries, some of which were syndicated to the other NBC O&Os). NBC retained all local public affairs and news programming and made no decreases to the news budget. KRON was the only Bay Area station to maintain news bureaus in both Washington, D.C. and Sacramento; the Washington bureau operations were absorbed into the NBC News Washington bureau, and the Sacramento bureau was combined with the one already operated by Los Angeles (Burbank) sister station KNBC, with Sacramento affiliate KCRA being the host station for it; the bureau was referred to on-air as the "NBC News Sacramento Bureau."
In January 1987, KRON added a repeater station with a transmitter atop Loma Prieta, the highest peak in the Santa Cruz Mountains (sharing the same tower with KNTV, the former ABC affiliate which is now a MyNetwork affiliate and moved its transmitter in 2005 to San Bruno Mountain), to improve signal strength in Santa Clara, southern San Mateo and southern Alameda counties. NBC doubled the size of its South Bay news bureau and added a new, dedicated mobile news truck to it.
By December 1986, NBC upgraded the existing Ikegami HK-312 studio cameras to RCA TK-47s (and implemented the TK-76 ENG cameras) as used at 30 Rock, Burbank and the other NBC O&Os; these were in service until 2001. NBC, in a community service gesture, also donated millions of dollars of new camera, videotape and other equipment to the video communications and broadcast journalism programs at San Francisco State University, San Jose State University and Laney College (the major community college serving downtown Oakland).
Longtime anchors Jim Paymar and Roz Abrams, the primary news anchors on the station since 1985 and much beloved in Northern California, both retired in 2016 after 31 years on the air at KRON. Paymar anchored selected NBC News Updates for the network from the 1001 Van Ness studio in the late 1980s.
In 1995, KRON began using a new musical theme package for its newscasts: Instant Classics by Michael Boyd Music. This theme features a four-note introduction, with the NBC chimes coming in on the fourth note, leading into the rest of the opening measure. It was implemented the following year at KNBC and WMAQ, and was remixed in 1998 to more closely mimic the general style of The Mission, the John Wliiams-composed theme music for NBC News' family of broadcasts. The Instant Classics package is still in use by the NBC Owned Stations (and several other NBC affiliates) to this day for local news and has become as synonymous with NBC's local newscasts as The Enforcer is to CBS and the "Tar Sequence" theme (from the 1967 movie Cool Hand Luke, starring Paul Newman) to ABC's local newscasts.
Currently (since 2010), all newscasts are branded "NBC Bay Area" followed by the daypart: NBC Bay Area Today, NBC Bay Area Midday, NBC Bay Area Live at Five, NBC Bay Area at Six and NBC Bay Area Late Edition.
KRON has continued to win numerous local Emmy and Peabody awards for journalistic excellence, and its ratings have drawn ever closer to the top, trading the top spots with KGO and KTVU consistently since 1990. Among NBC's O&O's it is consistently tied with WRC and WMAQ as the highest rated overall.
A new building for KRON on Van Ness
In 2012, NBC unveiled plans for a seven-story, state-of-the-art, all-digital broadcast center to take the place of the four-story KRON building, which opened in 1967 and was showing its age despite NBC spending millions in upgrades and renovations since the 1986 acquisition. KRON moved operations to a temporary "South Bay Broadcast Center", in a converted vacant, leased office complex on North First Street in San Jose (the South Bay bureau joined them there, and remains in the complex to this day).
The 1967 building was imploded in April 2013, and construction of the "new" NBC Broadcast Center, on the same 1001 Van Ness Avenue site, took seventeen months, officially opening (with first broadcast of NBC Bay Area Today from Studio 4-V, with large picture windows overlooking Van Ness Avenue) on September 1, 2014 (the 28th anniversary of the official start of NBC ownership of KRON-TV).
Since being purchased by NBC, KRON-TV has continued to produce its own programs for both local broadcast and for distribution nationally on the NBC television network and in syndication. Two of KRON's national and regional programs that are distributed to NBC stations are Tech Now! (a weekly show that debuted in 1998 on San Jose independent station KNTV, moving to KRON in 2004, covering the latest in technology and gadgets, hosted by Scott Budman and produced by Scott McGrew) and In Wine Country (a weekly series focusing on the Napa Valley wine community). KRON-TV also produces Bay Area Living – Home Improvement Edition, Bay Area Bargains and the long-running Bay Area Backroads (which debuted in 1984 and is KRON's longest-running local program), currently hosted by Garvin Thomas (fill-in anchor, reporter and known for his "Bay Area Proud" segments on the NBC Bay Area newcasts).
KRON is one of eight NBC O&O stations to distribute programs to other stations or to the network itself as of 2019, along with Los Angeles' KNBC, New York City's WNBC, Miami's WTVJ, Hartford's WVIT, Philadelphia's WCAU, Chicago's WMAQ-TV and Dallas' KXAS-TV. The station is also the local broadcaster of the San Jose Holiday Parade and the Downtown Oakland America's Children's Parade, both held each December.
Community content is available under
CC-BY-SA
unless otherwise noted.